Meet our great team of professionals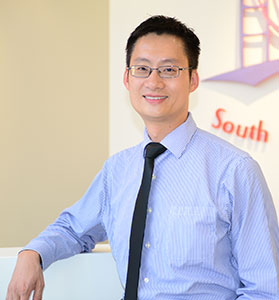 William C.K. Ho, DDS
Principal Dentist
Dr. Ho received his Doctorate of Dental Surgery (DDS) degree from UCSF, and has two additional years of continuing education in Progressive Orthodontics. In addition to his qualifications to offer the Invisalign orthodontics system that corrects braces without smiles, he is also trained in cosmetic and implant dentistry. Because of Dr. Ho's dedication and passion to the field of dentistry, he always invests in the most modern technologies and techniques.
South City Smile
Michelle
Office Manager
I have started working in the dental field for more than 15 years. I have always love to work in a dental environment to provide excellent customer care and work with a dentist with superior quality dentistry. The team that I lead has always been genuinely caring, supportive, and committed to our patients. Dr. Ho is gentle and caring toward all our patients. He always take the time to discuss treatment options in a sincere and professional manner. My goal is to make sure every patient that come into our office are satisfy and leave with a happy smile. Aside from working in the office, I like to spend time with my family on outdoor activities and shopping.
South City Smile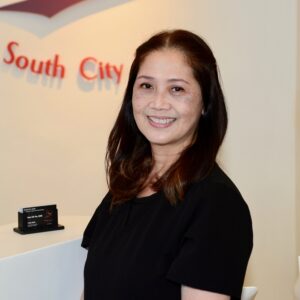 Rey Ramos, DDS
Dentist
Dr Ramos earned her DDS license in 2006.
She has been in the dental practice since1996. She earned her dental licensed DMD in Manila, Philippines.
She is passionate educating her patients on the importance of their dental health, mainly concentrating and working with utmost efficiency and confidence in the principles of periodontal and dental hygiene. Over the years, she has developed both the dental knowledge and skills to perform exceptional solid care, with meticulous detail and accuracy to each and every patient. She is a member of the American Dental Association and California Dental Association. Outside of work, she enjoys traveling, hiking, spin biking, and yoga.
South City Smile
Joyce
Registered Dental Hygienist
Joyce joined the practice in 2018. She has been involved in dentistry for more than 25 years. She was a practicing dentist before moving to the United States. After 14 years of working as a registered dental assistant in the US, she decided to pursue dental hygiene and earned her degree at Carrington College. She graduated class valedictorian. Joyce truly loves her work and is very dedicated to make sure each patient is comfortable. She has committed to deliver the highest quality of care to each and every patient. In her free time, she loves to travel and hang out with her family and friends. Yay! Joyce
South City Smile
Stephanie
Registered Dental Hygienist
South City Smile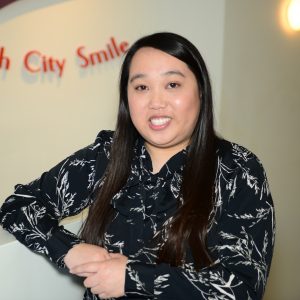 Lyndia
Front Desk Scheduling Coordinator
Lyndia graduated with a Bachelor in Science degree in molecular and cell biology. Her goal is to give the best customer service possible for each patient to leave with a happy smile. She is bilingual in English and Chinese - so don't be afraid to ask questions! Outside of work, she enjoys traveling and spending time with family.
South City Smile
Patricia
Front Desk Patient Coordinator
Patricia is a highly motivated front desk coordinator with a true passion for helping people in the healthcare industry. She has a diploma in Medical Assisting and has been working in the Customer Service field for over 5 years. Patricia is always happy to help you with any way that she can. She can speak English and Tagalog. When Patricia isn't at work, she likes to hang out with her family and go on road trips.
South City Smile
Aileen
Register Assistant (RDA)
Ailene finished Dentistry and operatedd her own dental clinic in the Phillippines before she imigrated to the US. In Las Vegas, she worked as a Dental Assistant for two and a half years and has been working as an RDA in California for more than 10 years. She is a dedicated worker and a caring dental assistant to her patients. She looks forward to welcoming everyone with her cheerful smile.
South City Smile
Yin Yin
Dental Assistant (DA)
Yin Yin graduated with Bachelor of Dental Science Degree from University of Dental Medicine, Myanmar(Burma) in 2019. She has been a Dental Assistant since 2020. She loves the challenges and the excitement that are involved in the dental field. Meeting and caring for patient's needs and making sure they leave with a smile on their face brings her great satisfaction.
She is trilingual in English, Mandarin-Chinese and Burmese. In her spare time, Yin Yin likes to explore the different restaurants around the Bay Area.
South City Smile